Hotel Design Includes Glass Pool Hovering 2,000 Feet Above Norwegian Fjords
Inspired by one of Norway's most scenic overlooks, Hayri Atak Architectural Design Studio has released a spectacular concept for a new boutique hotel. The proposal features the accommodations nestled onto a side of Preikestolen, a cliff that soars nearly 2,000 feet (604 meters) over the Lysefjorden fjords. Already a popular tourist destination, adventurous visitors would have a new reason to make the hike thanks to the sleek hotel.
The nine-suite hotel would be entered from the top of the cliff, with a common lounge area and guest rooms nestled into the face of the rock. The upper entryway would double as a scenic overlook, while real adventure seekers would want to venture to the pool deck. Here, a glass-bottom pool is cantilevered, allowing courageous swimmers to enjoy the water while looking down into the fjord.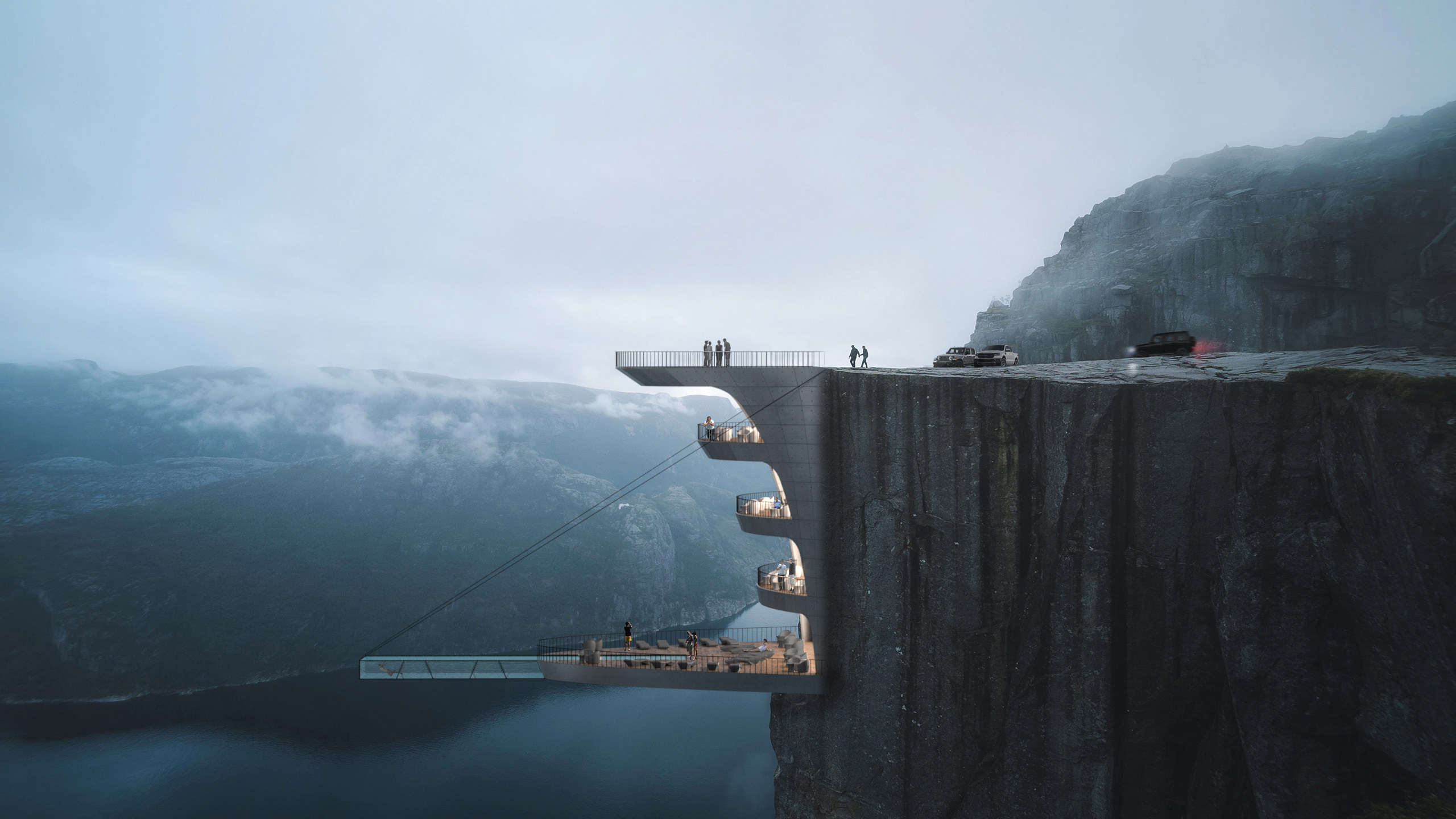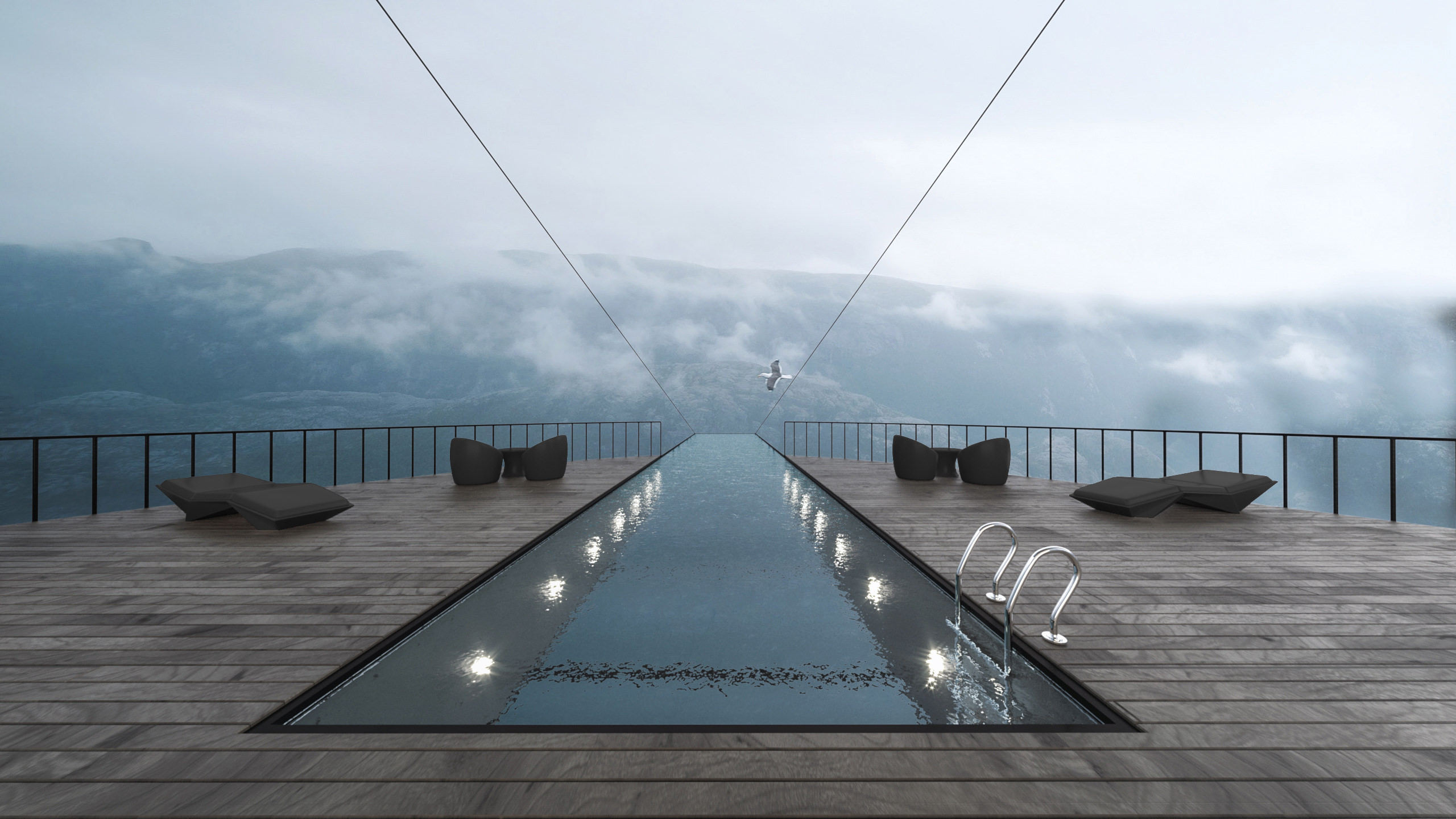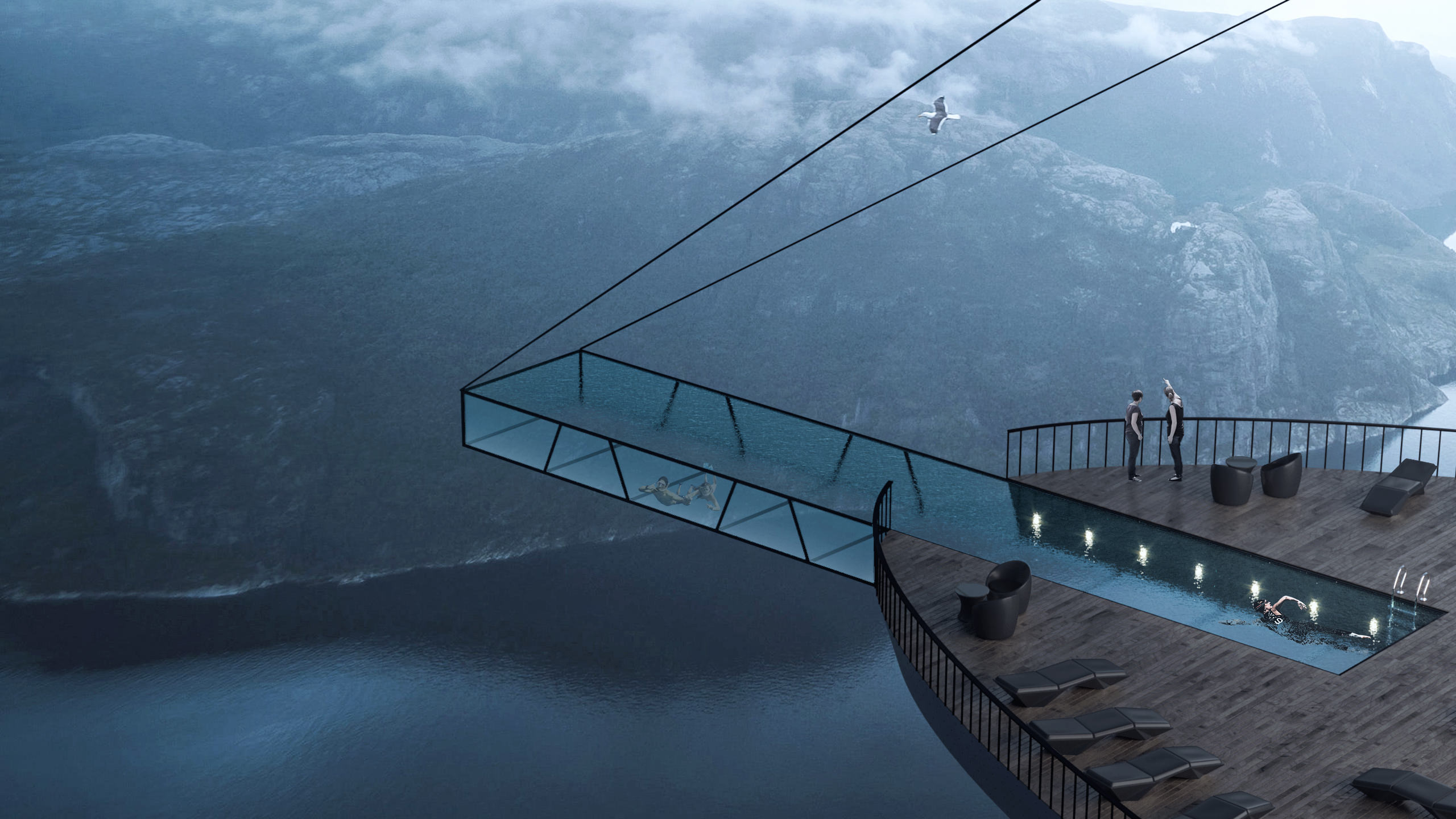 The entire concept was inspired by a photograph sent to studio founder Hayri Atak. Thrilled by the photo a friend took during her vacation to Norway, Atak sought to capture the adrenaline pumping scene into his architecture.
All images via Hayri Atak.
Gabrielle Grace Epstein Pure America | XIT4U Instagram Model

I love Gabrielle's photos. Always fresh, cheerful, partying. Of course, the most beautiful point in any photo is blonde beauty. Gabrielle's super hot, thank you for being here! A bejegyzés megtekintése az Instagramon Gabrielle Grace Epstein @gabbyepstein #AlwaysBeautiful #beauty #beautiful #model Mrs. Posh (@beauteous.models) által megosztott bejegyzés,

Emily Ratajkowski is the best of the best | XIT4U Instagram Model

I'm pretty sure you know or have seen Emily Ratajkowski's pictures. Fantastic model with wonderful lines. Perfect and always beautiful! A bejegyzés megtekintése az Instagramon Emily Ratajkowski @emrata #AlwaysBeautiful #beauty #beautiful #model Mrs. Posh (@beauteous.models) által megosztott bejegyzés, Máj 5., 2019, időpont: 11:20 (PDT időzóna szerint)

Olya Abramovich Real blonde beauty | XIT4U Instagram Model

If you are a fan of blonde models, then Olya is sure to like you. Beautiful and very hot. 5 stars A bejegyzés megtekintése az Instagramon Olya Abramovich @oabramovich #AlwaysBeautiful #beauty #beautiful #model Mrs. Posh (@beauteous.models) által megosztott bejegyzés, Máj 5., 2019, időpont: 3:46 (PDT időzóna szerint)

Elizabeth Tran The always smiling asian beauty | XIT4U Instagram Model

One can only love the beautiful Elizabeth. He is extremely kind, funny and always captivating. We love Asian models! A bejegyzés megtekintése az Instagramon Elizabeth Tran @elizabethtran626 #AlwaysBeautiful #beauty #beautiful #model Mrs. Posh (@beauteous.models) által megosztott bejegyzés, Máj 4., 2019, időpont: 1:11 (PDT időzóna szerint)

Katie, pearl of Australia | XIT4U Instagram Model

Fantastic in shape, fantastic smile. We love her as she is. A bejegyzés megtekintése az Instagramon Katie Rose Wilkinson @_sweetlikecinnamon #AlwaysBeautiful #beauty #beautiful #model Beauteous Models (@beauteous.models) által megosztott bejegyzés, Máj 4., 2019, időpont: 4:47 (PDT időzóna szerint) A bejegyzés megtekintése az Instagramon Katie Rose

Laurence Bédard the tattooed queen | XIT4U Instagram model

Laurence Bédard is a beautiful tattooed model. One of the stars of the instagram, this is evidenced by the huge number of followers. A bejegyzés megtekintése az Instagramon Laurence Bédard @lolobe4 #AlwaysBeautiful #beauty #beautiful #model Beauteous Models (@beauteous.models) által megosztott bejegyzés, Máj 3., 2019, időpont: 2:07 (PDT időzóna

Viki Odintcova | MAVRIN Model | XIT4U Instagram model

The beautiful Viki is well known to everyone who is familiar with the world of models. I wouldn't say anything about it. The pictures speak for themselves. A bejegyzés megtekintése az Instagramon Viki Odintcova @viki_odintcova #AlwaysBeautiful #beauty #beautiful #model Beauteous Models (@beauteous.models) által megosztott bejegyzés, Máj 2., 2019,

Rosanna Arkle is the real beauty | XIT4U Instagram Model

We love Rosanne. Her skin is flawless, her shape is flawless. It's as good as it is. A bejegyzés megtekintése az Instagramon Rosanna Arkle @rosannaarkle #AlwaysBeautiful #beauty #beautiful #model Beauteous Models (@beauteous.models) által megosztott bejegyzés, Máj 2., 2019, időpont: 3:43 (PDT időzóna szerint) A bejegyzés megtekintése

Still the most beautiful of the American fitness model | XIT4U Instagram Model

Jen Selter, the 25-year-old New York fitness model. At the same time, she made one of the most viewed profiles on Instagram. In 2012, Jen worked as a receptionist for a fitness room and always admired those who worked hard under all circumstances. He also started training, she did his

Jessica is a real exotic beauty | XIT4U Instagram Model

Jessica Killings is a real name. Just like every tiny line of her body. A bejegyzés megtekintése az Instagramon Jessica Killings @jessicakillings #AlwaysBeautiful #beauty #beautiful #model Beauteous Models (@beauteous.models) által megosztott bejegyzés, Ápr 30., 2019, időpont: 4:41 (PDT időzóna szerint) A bejegyzés megtekintése az Instagramon